[Exclusive Heavy Rain Blog] Jacqui Ainsley Interview (Madison Paige)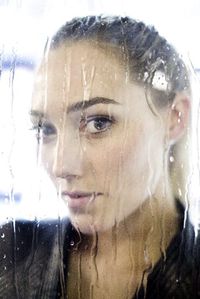 Jacqui Ainsley, the superb model and actress that acted for Madison Paige's character in Heavy Rain, accepted to answer to an exclusive interview for our unofficial Heavy Rain Blog. She answered our questions about her, her work with Quantic Dream studios, and the specific way of acting in a video game.
Retrouvez cette interview en français ici : [Exclusif Heavy Rain Blog] Interview de Jacqui Ainsley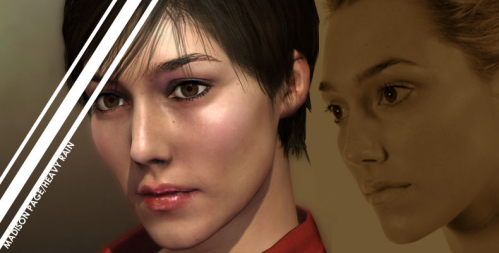 - How long ago did you cast for Heavy Rain ?

The first audition was in May 2007... I remember we had a 3 page monologue to memorise for the casting. I was a little nervous, as there was so many actresses and models auditioning, but I really felt like I connected with the character (Madison) and was therefore comfortable performing.

- What decided you to act for a video game ? Because it's quite unusual for a model and actress... Was it a kind of a challenge ?

I'm always ready to take every opportunity that arises. I like to think that tomorrow is a blank page and it's up to us to write our own story. I love new experiences, meeting new people and learning new skills, so for me this possibility was really exciting.
I've always enjoyed acting in the past (tv commercials and music videos) and the prospect of being involved in a project of this scale was thrilling. I feel very lucky to have been chosen.

- What differences does it make to act for a video game, compared to the usual way of acting? Is it far from what you're asked to do for a movie? Motion capture is quite specific...

The first major difference is the filming time scale. We spent 3 years working on this game, which is possibly the equevent of shooting 6 feature films.
The generic MoCaps e.g opening doors or shutting drawers had to be very precise: with a specified start and finish point and a strict time limit to complete the action. Also the mode had to be considered in each move as my resting stance changes. It was also important to have spacial awareness- of props, the set, the studio and the 28 cameras.
In a movie, generally action and dialogue are filmed simultaneously, where as in MoCap it is all broken down into stages: voiceover, audio acting, motion and facial MoCap. This means you can concentrate to a greater exent on each stage, but it is also harder to fuse all the stages together to present a natural and believable performance. At times this gave us freedom and at other times it proved to be restrictive, but ultimately it is different skill.

- How long did the acting last ?

For 3 years I worked with the MoCap team almost every month. Some months the sessions lasted a week, but nearer the end we were shooting 1- 2 days at a time to film missing actions or to perfect scenes previously recorded.

- Where did it happened ?

We filmed all of the motion, audio and facial capture in Quantic Dream's MoCap studio in Paris.

- Did you have the whole script to help you understand the way you had to act, or did you just had only your own scenes ?

From the beginning we were given the whole script to assist our understanding of the context of each scene; which helped us with the development of the characters. David Cage was always on hand to help remind us of significant story lines we had filmed previously and what moral choices the current scenario could present to the player.

- What was the most difficult ? Action scenes or erotic scenes ?

Haha! [laughs] That depends... My body would definitely say the action scenes were more strenuous! The spherical sensors covering the body suit are very firm and if you are constantly falling and fighting, over the course of a week, it can be painful. I was often coming home black and blue!

- Have you met David Cage (CEO of Quantic Dream) ? What was the feeling with Quantic Dream's staff ?

Yes, of course! He was at the initial casting and he directed most of my MoCap sessions. He is a wonderful director- professional, inspirational, considerate and fun... and always striving for perfection. His team are very talented and hard working. There were lots of amusing moments during filming, we all had such a good time!

- Who made the voice of Madison ?

Judi Beecher an American girl. I gave it a shot but I can't compete with a native! ...And Madison deserves the best!

- How do you feel as you're about to be a symbol for hundreds and thousands video gamers ? Because it seems like Sony and Quantic Dream want the audience to know you !

It's all very exciting, especially because she is such a complex and captivating character. I hope the players and fans of the game aren't disappointed, I've got a lot to live up to!

- Have you been asked to promote Heavy Rain until the game is released ?

Sony are hosting a red carpet première for the game mid-February in Paris. I will be attending and I imagine it will involve lots of press and promo. I'm very excited to see everyone again!

- Do you expect your acting in Heavy Rain to open you more doors to the cinema, as Heavy Rain is quite a kind of a movie, rather than commercials ?

Heavy Rain is definitely more like an interactive movie than a traditional video game and I feel like working on this project has unlocked doors within myself -which is a great place to start. I loved every second we spent filming and would love pursue acting in the future... Watch this space!

- What are your plans for the future, especially 2010 ?

I always try to be the best that I can be. To have fun, to set goals and to keep dreaming. I hope to work hard and to make a difference. I love traveling and experiencing other cultures, so I'd like to grab my backpack and take an inspiring journey. This year I spent a month discovering Brazil, backpacking with only 6kg. After fashion shoots, acting, hotels, make up, high heels etc, it is nice to keep my feet on the ground and get my hands dirty!

- Can we expect to see you in another video game in the future, or was it a unique experience ?

I'd love to work on another video game project in the future and I feel I've learned many new skills; but it would have to be something very special to top this!


Interview done by mail by Vince229 and Jahmanvibration, creators of this unofficial blog.
We thank Jacqui so much for answering our questions despite her very precious time.

You can visite Jacqui Ainsley's website by clicking here :
http://www.jacquiainsley.co.uk
.